Sydney-based creative Elijah Manis stumbled upon a small garage sale at Lilyfied in Sydney over the weekend. It was a small clay pin with a woman's face that first caught his eye, and he struck up a conversation with one of the merchants, Julia Manley, who had made the pin. "We actually had lunch the other day," he says.
It's the communal nature of shopping for pre-loved items that has drawn Manis to exploitation stores since he was a young boy growing up in Brisbane. He remembers places called free shops where you could buy clothes and other items for free, and says he always met interesting people.
"I believe in recycling," he says. "I like the fact that I can have something, knowing that another person has it."
"It's about taking from the community and giving back to the community. I love this sense of sharing. »
Julia Manley's stall (347 Catherine St, Lilyfield) was one of many across Australia taking part in this year's Garage Sale Trail, which returns for its second week this weekend.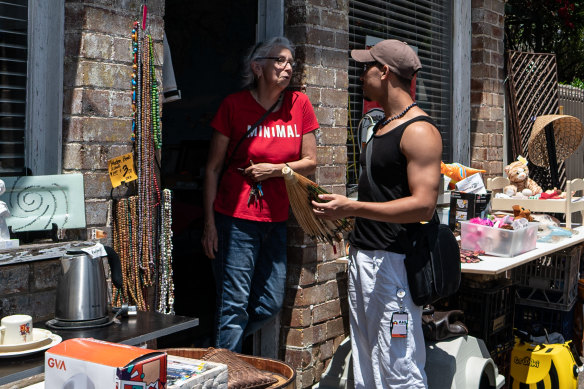 Andrew Valder and Darryl Nichols were living in Bondi in 2010 when they noticed the huge amount of illegal dumping on the trails – many of which remained in "perfect working order" – and decided to do something about it. They put up signs around the neighborhood with the slogan "Don't throw it away, sell it", and, as Valder puts it, everything "went out of control". This weekend, he says, 130 stalls popped up in the area. Just like that, The Garage Sale Trail was born.
Now in its 12th year, Garage Sale Trail works with over 100 local councils across Australia and has also held sales with Opera Australia, MONA Australia and NSW Parliament House.
Valder says garage sales are a simple way to have open conversations about waste and sustainability. "It's not uncommon for people to get confused when you talk about trash," he says. "But when we talk about garage sales, people's eyes light up."